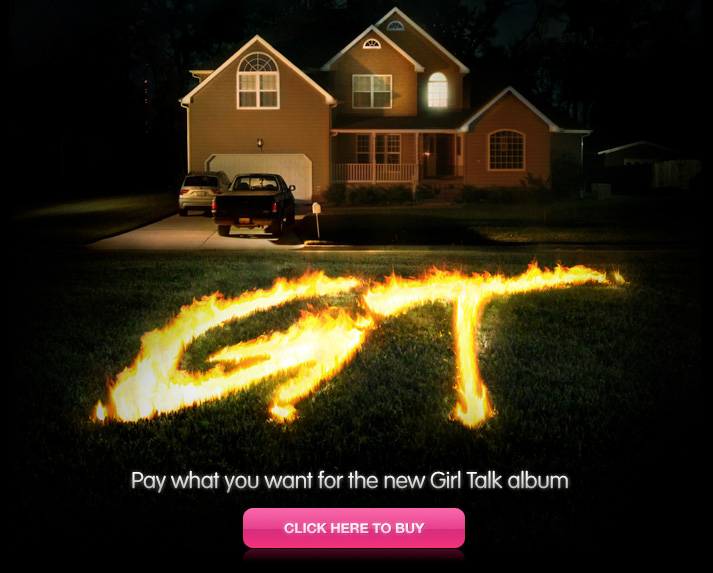 So Girl Talk have pulled a Radiohead and have rush-released his new album, "Feed the Animals", online as a pay-what-you-want model. Girl Talk is so awesome, everybody should download this new album! His last album, "Night Ripper", was one of my favorite albums of 2006 and his live show was great too. Anyways "Feed the Animals" is supposed to be like "Night Ripper", but with more recognizable, longer samples. I'm downloading mine right now, get yours by clicking
here.
Or if you're still on the fence, stream the album
here
.
From Pitchfork:
Girl Talk's Feed the Animals Available Now!
Physical release date revealed, too
Just a few short days ago, we got Gregg "Girl Talk" Gillis on the phone for a little chat about his new album, Feed the Animals. He had finished the follow-up to 2006's Night Ripper early last week, had it mastered over the weekend, and expected to deliver it to the Illegal Art website through a pay-what-you-please policy "Wednesday or Thursday." Well, it's Thursday, and Girl Talk's Feed the Animals is available to download now. Ain't this technology something?

There's a bit of a caveat to the downloading process of which we weren't aware until the thing went live. Though whatever you wanna pay gets you the full album in 320 kbps MP3s, you'll get a fair little inquisition should you opt to pay nothing. Paying $5 or more will get you the album in those colossal, lossless FLAC files, plus access to a single file containing the whole disc. Opt to pay $10 and all that can be yours, plus Illegal Art will get you a CD copy of the set when it's released September 23 for a $3 shipping fee (in the States, anyway). The vinyl will follow on Wham City sometime this fall.

One bit of weirdness: there appears to be an honor system at work here, at least for now, since you can pledge $5 or more and download the FLAC files without actually paying anything. But shhh, we didn't tell you that.